Visas
Some countries require a visa to gain entry into Chile. Click here for more information on visa requirements.
Airport Information
Arturo Merino Benitez International Airport (SCL)
Armando Cortinez Ote. 1704, Pudahuel, Región Metropolitana, Chile
Phone: +56 2 2690 1796
Arturo Merino Benítez International Airport, also known as Santiago International Airport and Nuevo Pudahuel Airport, located in Pudahuel, 15 km north-west of central Santiago, is Chile's largest aviation facility and busiest international airport.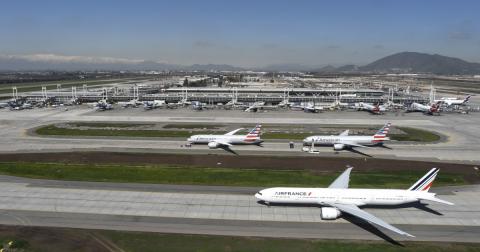 Transportation
Metro
You can buy a single ticket, which includes bus fare for interconnected stations, for 700 to 800 Chilean pesos, but keep in mind that prices vary depending on the time of day, with rush-hour travel (7 to 9 a.m. and 6 to 8 p.m.) costing more. If you plan to use the metro as your primary means of transportation, consider purchasing a prepaid Bip! card instead of individual tickets. Bip! cards each cost 1,550 Chilean pesos, are usable on both the metro and buses, and can be purchased from the self-service machines found in every metro station.
Trains operate from 6 a.m. to 11 p.m. Monday through Friday; from 7 a.m. to 11 p.m. on Saturdays; and from 8 a.m. to 11 p.m. on Sundays and holidays.
Taxis
To hail a taxi, you'll need to speak with a representative at the airport. Trips between downtown and the airport generally cost 12,000 to 30,000 Chilean pesos, depending on the route and amount of traffic. The following companies offer transportation from the airport:
Vía Controlada - (+56 9) 4273 2887
Taxi Oficial - (+56 2) 2601 9880
UBER
Be sure to download the dedicated smartphone app.